Free Website Analysis Report
Discover the strengths & weaknesses of your website with our free website analysis.
Test 32 Unique Criteria on your Site
Quality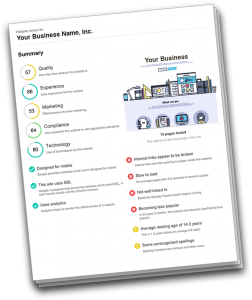 Do certain defects discourage users and search engines from navigating your site?
Full check for spelling and grammar issues.
Discover broken links, images and pages.
Identification of missing files and prohibited content.
Experience
Analyze the user experience.
Determine mobile readiness.
Test mobile and desktop page speeds
Marketing
Examine online marketing presence
Determine search engine ranking across top browsers
Define site metadata including titles, descriptions, alt tags
Identify backlinks to site
Compliance
Identify compliancy to standard measures.
Technology
Test server behavior
Identify JavaScript errors
Test for analytics
Check for favicons
Verification of cookie law compliancy
Content
Determine strength of content.
Are users provided with accurate contact information.
Check for duplicate and redundant content.
What can BST do for your business?
Learn more about the services provided by the team at BST.