Driving Online Reviews to Your Business
Getting started
Getting started there are several options that you can use to transfer your customer information into our system to get the process rolling.
We provide a link that leads you to this Invite form. You can put customer information in manually or upload an Excel/CVS spreadsheet with multiple customers and then click Invite.
You can put customer information into and Excel/CVS spreadsheet and email it to our office.
We will provide business cards for you to hand out that provide details for your customer to provide the information online .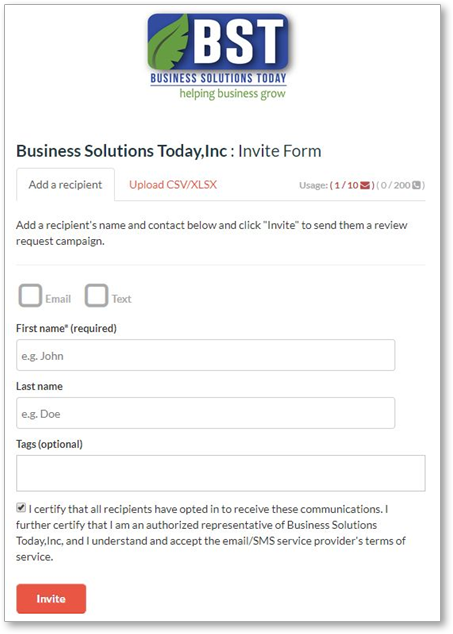 Next Step
Once your customers information is in our system,  an email or text is sent to them personalized  with your logo  & business information.
This is the beginning of a 3 step email drip campaign.
If your customer does not respond to this email, a 2nd follow up email is sent 3 days later.
If there is no response after 7 days a 3rd email is sent requesting a review.
After 3 emails have been sent the campaign is terminated and no more emails will be sent.
Check Out the Stars
Once your customer clicks on the Review Us Now button, they are led to this landing page that is personalized with your logo and business information to rate their experience.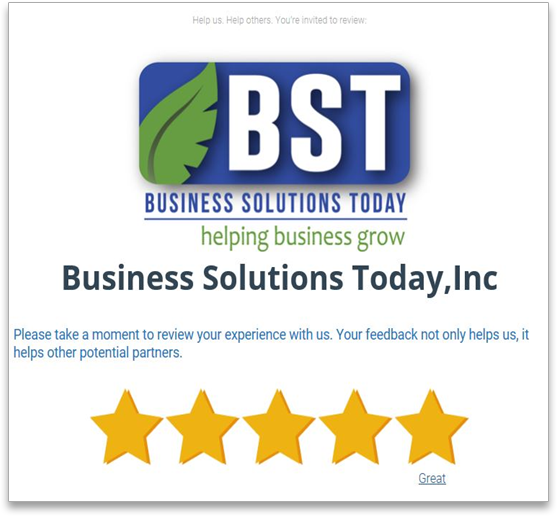 The Pop Up
When your customer clicks on 3, 4, or 5 Stars, this pop up page appears with options for where they can place their review of your business.
These review site links can be customized to your business and industry (i.e., Yelp, Trip Advisor, Foursquare, Angie's List, Houzz, Amazon, etc.)
There is also a link if they would rather talk directly with you.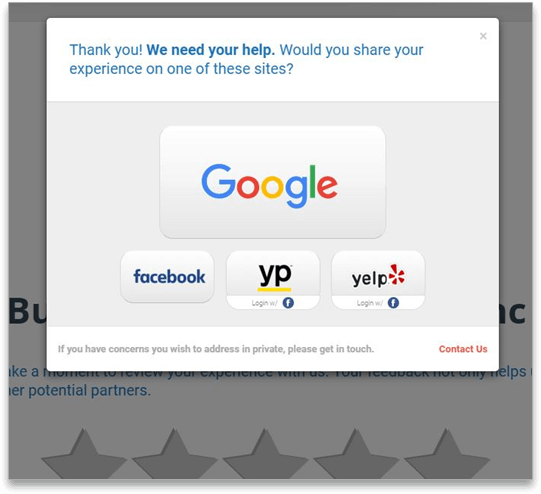 Getting the Review
Using Google as our example, once your customer has clicked on the Google icon, this pop up page appears notifying your customer that if they are not already signed into their Google account, they will need to.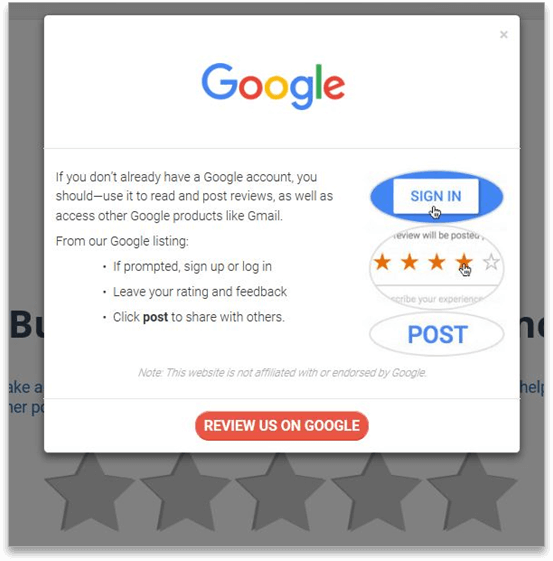 Last Step
After clicking on the Review Us On Google button, this pop up page will appear on your Google search business page for your customer to complete and then post.
Once your customer clicks POST, that's it, they have completed the review process.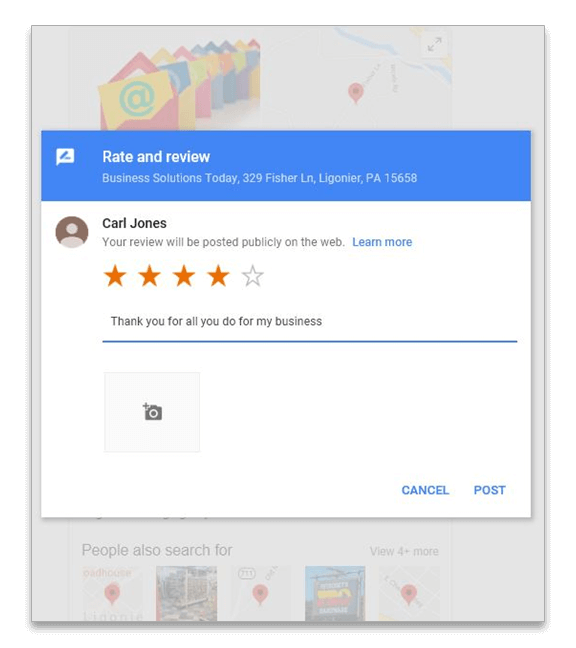 1 and 2 Star Reviews
If your customer is unsatisfied and clicks on a 1-2 Star review, this pop up page will appear giving the customer the option of messaging you to try and solve the problem, or just continuing on to write the review.
Most consumers don't want to write a bad review, they just want their perceived problem dealt with.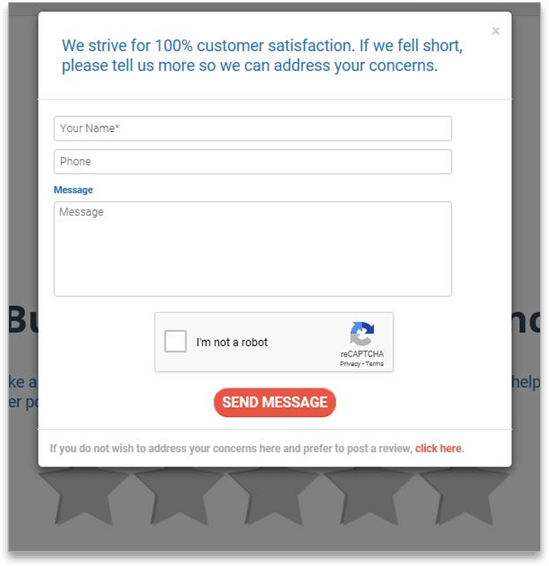 What happens now?
Now that customers are writing reviews for my business, what happens next?
A code  is placed on your website that will allow reviews to automatically be "live streamed" onto any page of your website.
A "Review US" button is also placed on your website.
"Live stream" reviews on your website are great for SEO. They provide continual fresh content.
We can also link your Facebook page so reviews outside of Facebook  can be "live streamed" to your page.
How will I know what is happening?
Each month you will receive a comprehensive report showing the following data:
Total # of reviews received
Total # of new reviews received
Star rating distribution
Percentage of Positive/Negative/ Neutral reviews received
Reviews by site
Overall star rating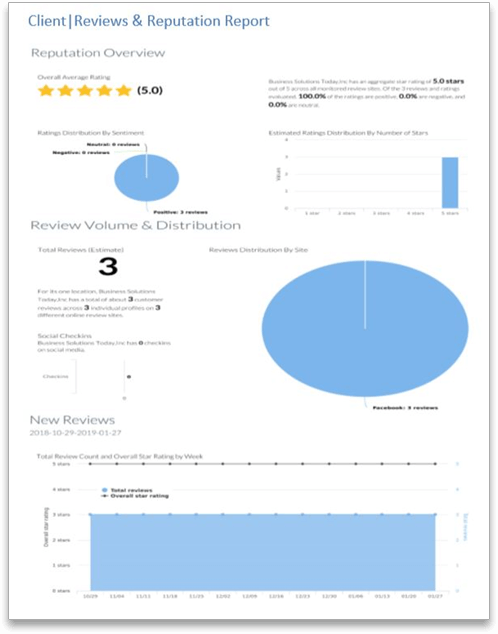 Benefits of Review Management
Systematically drive customers to review sites you care about.
Guide unhappy customers to a service recovery process.
Automatically ask, remind and guide customers through the review process with email, text, and print campaigns.
Amplify reviews by streaming to your website & social media.
Monitor results & present reports showing insights & data.
Increase SEO by constantly adding fresh content to your website.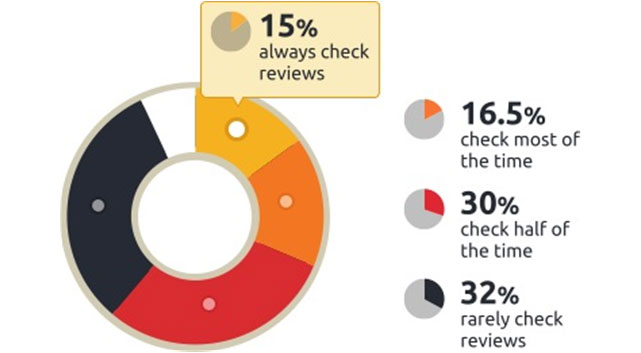 Almost Everyone Reads Reviews
Before dining or shopping, 93% of US consumers check online reviews at least some of the time.